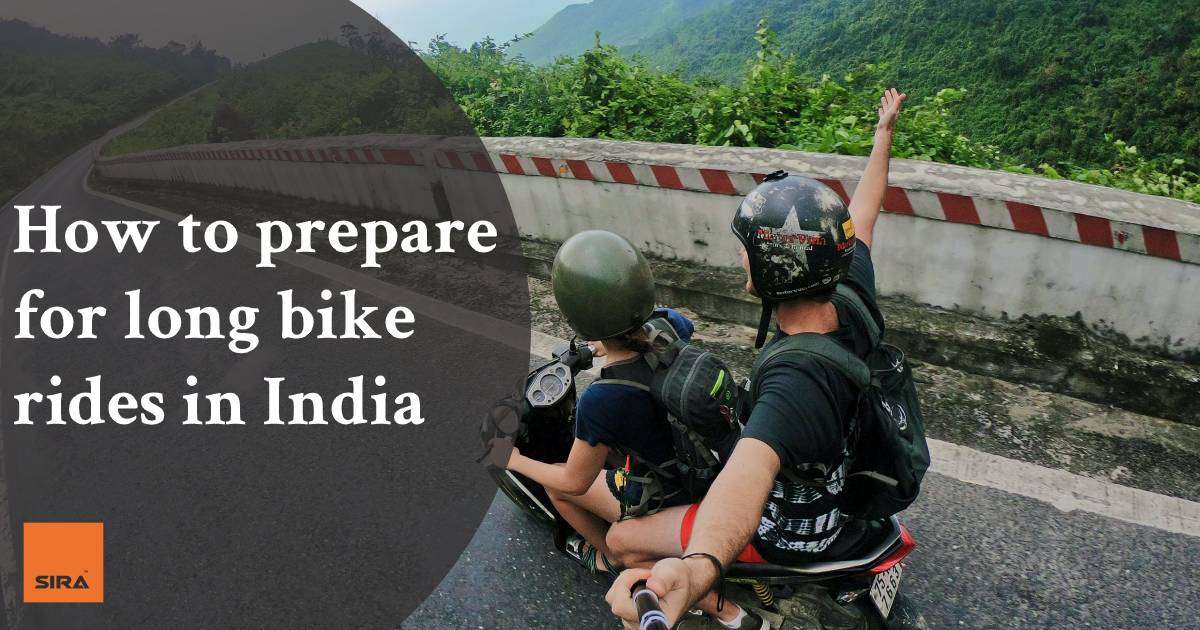 Every motorcycle fan always has a dream ride in their heart. There is some place they want to visit with their bike and probably leave their tyre print all across the country. While many see this as a destination ride, for true bike lovers – Rides are a form of meditation.
Long distance rides help you develop inner peace, and helps you disconnect from the regular world and rejuvenate your inner child when you head back.
But, how do you plan for your long ride?
There are numerous steps involved in preparing for a long-distance motorcycle ride. The first thing is defining what long-distance is – for some people 200kms is long distance while some might cover the same distance without a pit stop.
Your past ride history, physical fitness and your experience all comes into play while deciding on this. If you are planning for a group ride, make sure you all are in sync with the capacity of each rider and agree to find common ground for pitstops.
Here, we bring you 5 areas where you need to concentrate more before your long ride to make sure your journey is safe and comfortable. [yup that is our brand's slogan as well]
Pre-Ride prep
The journey starts once you decide you want to go for a long ride. You need to start getting yourself prepared mentally and physically.
Travelling long means, you will get butt and knee sore easily. Make sure you keep yourself physically active – be it going for a walk/jog or doing basic cardio. It is important to keep your body agile to aid you cover those longer stretched during day without taking constant breaks.
Prepare your bike. Start riding frequently short distances before you take your ride for a long distance. You should create that bond with your bike knowing how it performs in different terrains and what could possibly be the faults that might occur in these terrains
Unless you are an experienced rider, it is not recommended to take a new bike and ride long. Most people when they travel to Ladakh, rent bike to ride there. If you are planning something like that, make sure you have already driven a similar model so that you are used to the seating position, kerb weight, breaking etc.
Safety Gear
I don't mind repeating this 1000 times but "Safety is the top priority". Your family and friends support you in these long tours and the best return you can give them is to be cautious in your ride and return home safely.
Don't compromise your riding gears. No matter how responsible you are, you cannot assure your fellow riders riding along and opposite way on the road.
Ensure you get a Riding Jacket, Gloves and a standard Helmet. These are unavoidable. If you cannot get riding pants, get a knee and shin armour. A normal pair of boots should do for highway rides but if you are planning for off road terrains don't compromise again on a safety boot.
Remember we are just one fall away. When you plan your budget make sure you have the budget for proper safety gear included in it.
Budget – expect the unexpected!
Thanks to YouTube for the hundreds of moto vloggers online, you can get all the information you want regarding your journey from their personal experience videos.
Try to gather as much information as possible to pan for a proper budget. You can also check for hotel and stay pricing online to get an idea of how much will it cost for different items.
Don't compromise on hygiene and healthy food. Rather try to compromise on shopping in destinations.
Always keep 20% more than the estimated amount with you for all safety reasons. Maintain both digital and liquid cash. Place them in different spots like your pockets, saddle bags, tank bags etc. so that even in worst cases you will be left with some amount.
Luggage – Less is more!
Packing for the trip is the loveliest thing to do before your journey. There is a separate joy in packing things before your trip. But don't go over bound.
If you are planning for more than a day trip, you might have to unpack and repack a lot of times and it can be cumbersome. Strapping them back to your carriers and then reaching back if you have missed something is a tedious job
You can purchase affordable packing essentials such as Top Box, Saddle Bags, Tank bags etc. to help you with the same. Compared to a ruck sack, these things are custom made to fit into your bikes and make it easy for you during rides – causing less vibrations and easy unloading.
Take luggage safety as top consideration and make sure you have strapped them right. Cruising at high speeds, if you haven't strapped right they will cause a lot of vibrations and might trip off during the travel. Take enough time and cross check the safety measures before you begin.
Route – The Way forward
Ok so finally you are done with the above 4 steps but there is one more important thing to make it more awesome! The road matters – Period. If you decide to go just by google then God bless you!
Like I mentioned earlier, take some references from other riders, or join a community to find some new interesting rides instead of taking the boring highways. (Highways are good, but how long?)
You might find yourself near new ghat roads, new terrains that will make your ride complete.
In addition plan the right pitstops, your rest places etc. in advance to avoid confusion if you are going alone. If you are planning a group ride, take everyone's riding ability into consideration while planning for the routes and terrains you wanna explore.
Rounding things off,
Bikers are a separate breed who likes to be free in the world out there. Exploring new places, meeting new people. The adrenaline rush caused by the sound of the exhaust is something nothing can match.
Ride safe, Ride Long. We at SIRA strive to make your Journeys safe and comfortable with our line of products. Do give them a try and show your support for local.
Share this with your friend who is a rider freak or who will find some good info from the blog.